From the National Catholic Register, there is an article announcing the passing of Dr. Bernard N. Nathanson, former abortionist in NYC with the first innovative freestanding ambulatory clinic, (offering abortions and recovery in 3 hours), who in 1979 became an active pro-life campaigner and convert to Catholicism in the mid 1990's:
"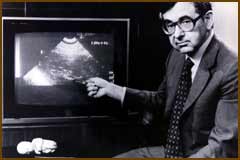 NEW YORK — Dr. Bernard N. Nathanson, an obstetrician who oversaw the performance of about 75,000 abortions before becoming a leading pro-life advocate and a convert to the Catholic faith, died after a prolonged battle with cancer this morning in New York. He was 84.
"After performing his last abortion in 1979 and declaring himself to be pro-life, Nathanson produced the 1985 film The Silent Scream, which shows sonogram images of a child in the womb shrinking from an abortionist's instruments, and the documentary film Eclipse of Reason, which displays and explains various abortion procedures in graphic detail. Both films had a significant impact on the abortion debate, solidified his credentials among pro-life advocates and earned him the scorn of his former pro-abortion friends and colleagues."  (More can be read here in this excellent biographical article, NCRegister.com). 
Anyone scorned by pro-abortion infanticide proponents is clearly a hero for our pro-life efforts.
Note that integral to his epiphany is the latest technology, "viewing images from the new ultrasound technology in the 1970s convinced him of the humanity of the unborn baby."  Dr. Nathanson estimated he "presided over 60,000 abortions as director of the facility, instructed fellow practitioners in the performance of 15,000 other abortions, and personally performed about 5,000 abortions, including one on his own child conceived with a girlfriend in the 1960s."
Critical to this story is how he converted to the Faith in St. Patrick's Cathedral after obviously confessing and demonstrating contrition for his involvement with abortion.  Look's like it was the passionate prayerful protests that contributed to his conversion:
"Nathanson later said that he was drawn closer to God while viewing a massive Operation Rescue event, when hundreds sat down in front of a New York Planned Parenthood building, blocking traffic.  The sight of so many pro-lifers selflessly sacrificing their selves and risking arrest made him realize that they must be answering a higher call, he explained." (emphasis Cowboy Papist)
May God welcome his servant into his loving arms – Requiescat in pace.
Related Articles